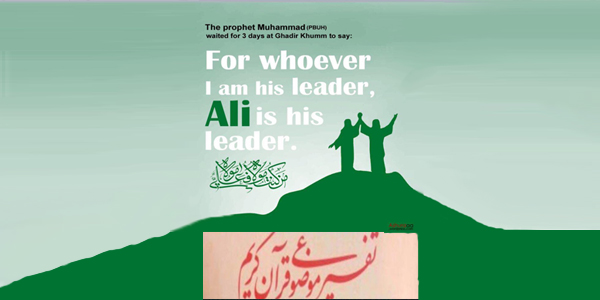 Celebration of the Eid Ghadir
Saturday, August 8, 2020 at 6:30 PM EMD
Program:
6:30-6:35 Quran Recitation
6:35-6:40 Poem/Nashid
6:40-7:25 Lecture by H. I. Doagoo (in Farsi)
برنامه (يك هفته در ميان) تفسير موضوعي قرآن كريم
عنوان:مروری بر نگاه شیعه در اثبات ولایت امیرمؤمنان از آیات قرآن و روایات تفسیری
7:25-7:35 Question and Answer
7:35-7:50 Kahoot Online Competition
7:50-8:10 Moloudi, Ziarat Amin Allah, and Dua
Zoom Link to the programs:
https://zoom.us/j/316797733?pwd=by9Mejh1NDJxU3ErU1hiaHNmZFlrZz09
Meeting ID: 316 797 733
One tap mobile +19294362866
Password: 351023
چکیده:
یکی از مهمترین مباحث تفسیری مورد اختلاف شیعه و سنی در طول تاریخ بعد از صدر اسلام، بحث اثبات ولایت امیرمؤمنان (ع) با استناد به آیات قرآن کریم بوده است. در یکی از جلسات گذشته، به آیاتی از قرآن کریم که می توان ویژگی های امامت از نگاه شیعه را از آن ها استنباط نمود پرداخته شد. در این جلسه که مصادف با عید بزرگ غدیر خم است، به دسته ای دیگر از آیات قرآن کریم و روایات ذیل آن ها اشاره خواهد شد که عموما توسط مفسرین و علمای علم کلام شیعه در راستای اثبات حقانیت ولایت امیرمؤمنان (ع) مورد استفاده واقع شده است.
About Hojjat al-Islam Hasan Doagoo:
McMaster University, Ph.D. candidate in Religious Studies (Western field), 2018-
Queen's University, M.A. in Religious Studies, 2017-2018
Hartford Seminary, Graduate Certificate in Islamic Studies and Muslim-Christian relation, 2014-2015.
International Institute for Islamic Studies, M.A. in Islamic Studies, 2011-2016.
Imam Khomeini Research and Educational Institute, B.A. in Islamic Philosophy, 2006-2009.
Islamic Seminary of Qom, Levels 1-4 in Islamic Jurisprudence and its principles, 1998-2016.
To access the announcement file please click file bellow