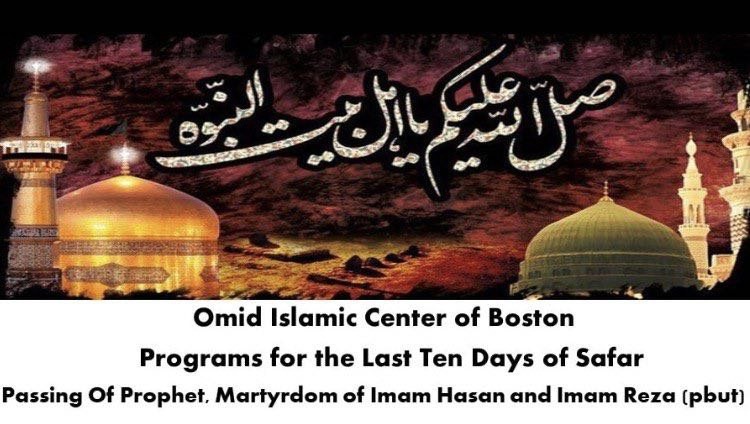 List of Programs During the Last Ten Days of Safar: September 30- October 7, 2021
برنامه های دهه آخر ماه صفر در مركز اميد بوستن:
1️⃣? پنجشنبه ٣٠ سپتامبر  ساعت ٨ بعد از ظهر
بزرگداشت وفات پيامبر (ص) و دعای كميل
سخنران: حجت الاسلام سيد عباس رضويان (به انگليسی)
عنوان:ویژه گی‌های پیامبر اکرم اسلام (ص)
2️⃣? شنبه ٢ اكتبر ساعت ٨ بعد از ظهر
بزرگداشت وفات پيامبر (ص) و امام حسن (ع) و ادامه درس‌های صحیفه سجادیه
سخنران : حجت الاسلام مسعود اديب
(به فارسی )
عنوان: رسول خدا تجسم مکارم اخلاق
3️⃣? پنجشنبه ٧ اكتبر ساعت ٨  بعد ازظهر
بزرگداشت شهادت امام رضا (ع)
سخنران: حجت الاسلام سيد عباس رضويان
(به انگليسی)
عنوان: درسهايی از زندگي امام رضا (ع).
1️⃣?Thursday,  September 30,@ 8:00 PM EDT
Commemoration of Passing "Wafat" of Prophet Mohammad (PBUH) and Dua Komail
Speaker: H.I. Sayyid Abbas Razavian    (in English)
Topic: The Personality of Prophet Muhammad (s)
2️⃣?Saturday , October 2, 8:00 PM EDT
Commemoration of  Passing of Prophet and Martyrdom Anniversary of Imam Hasan (PBUT) and Continuation of Shahida Sajjadiya Lessons
Speaker: H.I. Masoud Adib
( in Farsi)
Title : Ethical Characteristics of Prophet Mohammad ( PBUH)
3️⃣? Thursday ,October 7,@8  PM EDT
Martyrdom Anniversary of Imam Reza (PBUH)
Speaker: H.I. Sayyid Abbas Razavian         ( in English )
Title: "Lessons from Imam Reza's life."
Zoom Link to the programs:
Meeting ID: 316 797 733
One tap mobile +19294362866
Password: 351023
To access the announcement file please click here: