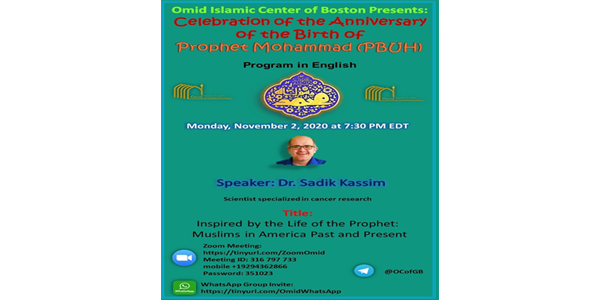 Monday, November 2, 2020 at 7:30 PM ET
Speaker: Dr. Sadik Kassim  (in English)
Title: Inspired by the Life of the Prophet:  Muslims in America Past and Present.
About the Speaker:
Dr. Kassim is a scientist specialized in cancer research.
Abstract:
This year, the Prophet's Birthday coincides with the American Presidental Election.   It is a great opportunity to reflect on the life of the Prophet and the ways he has inspired his followers in the United States, past and present.  Further, we will discuss the role and responsibilities of current Muslims in the continued development of American society.
Program:
7:30-7:35 Quran Recitation
7:35-7:40  Poetry
7:40-8:25  Lecture
8:25-8:35 Q&A
8:35-8:55  Poetry, Ziyarat, and Dua
Zoom Link to the programs:
Meeting ID: 316 797 733  One tap mobile +19294362866  Password: 351023
To access the announcement file please click here: