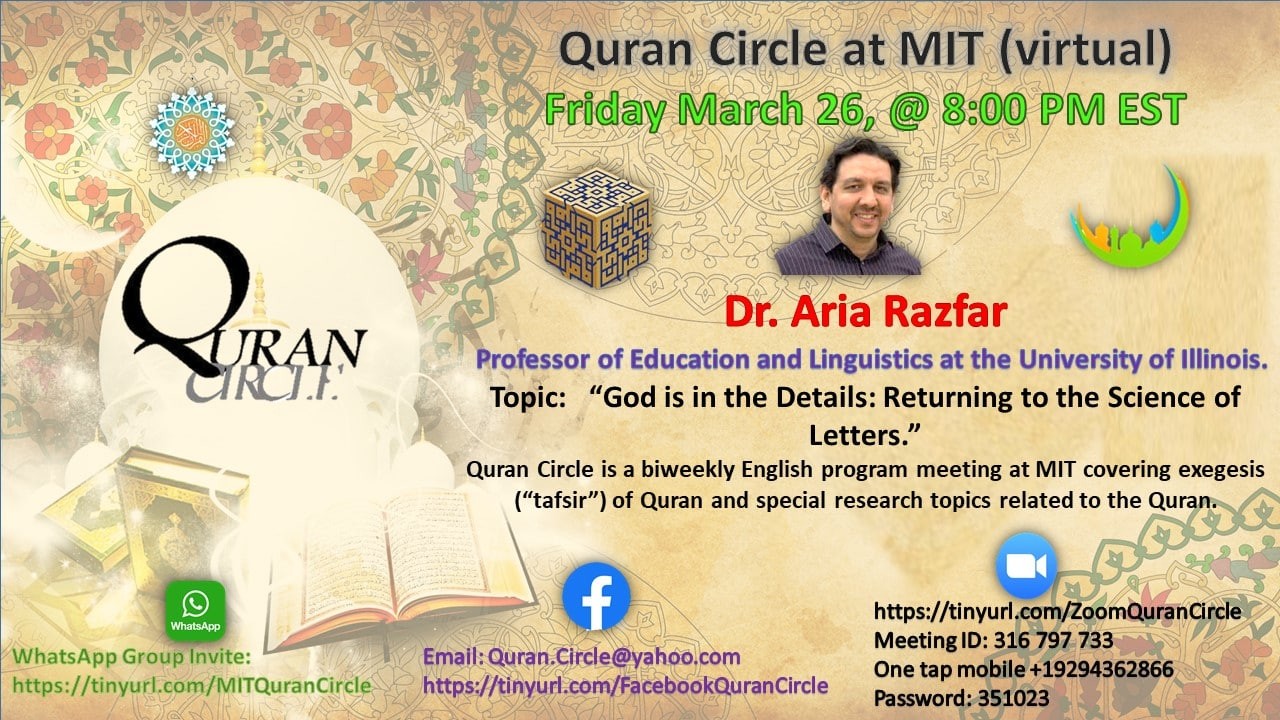 Quran Circle Program
بسم الله الرحمن الرحیم
In the name of Allah, the Most Gracious, the Most Merciful
کِتابٌ أَنزَلناهُ الَیکَ مُبارَکٌ لِیَدَّبَّروا آیاتِهِ وَ لِیَتَذَکَّرَ أُلوالأَلباب
[ It is ]a blessed Book that We have sent down to you, so that they may contemplate its signs, and that those who possess intellect may take admonition. Chapter 38, verse 29
Dates/Time : Friday, March 26, 2021 at 8:00 PM
Location : Online
About the Quran Circle:
Quran Circle is a biweekly English program meeting at MIT covering exegesis ("tafsir") of Quran and special research topics related to the Quran. We welcome presentations on scholarly research work related to the Quran. If you would like an opportunity to present your work please contact Quran.Circle@yahoo.com.
Quran Circle is open to the public.
Program:
8:00-8:05 Qur'an Recitation
8:05-9:05 Lecture
Speaker: Dr Aria Razfar
Special Topic:"God is in the Details: Returning to the Science of Letters."
Abstract:The sacred origin of knowledge, learning and language (ilm-e-huroof) underscores the basis of gnostic exegesis across comparative traditions. From Jewish mysticism (Kabbalah) to Islamic mysticism (Sufism/Irfan), the common Semitic roots of Hebrew, Arabic and Aramaic languages/cultures have been universally accepted and influential since the middle ages. Questions like what is meaning (mana) and how do we make sense of scriptures beyond the literal are at the heart of this approach. How do we go beyond form and embrace the divine essence. In this introductory talk, we will explore these questions and consider implications and applications for our world today.
About the Speaker:
Dr Aria Razfar is a Professor of Education and Linguistics at the University of Illinois. He is author of the best-selling Applying Linguistics in the Classroom: A Sociocultural Perspective
9:05-9:15 Question and Answer
9:15-9:25 Supplication
Zoom Link to the programs:
To access the announcement file please click here: