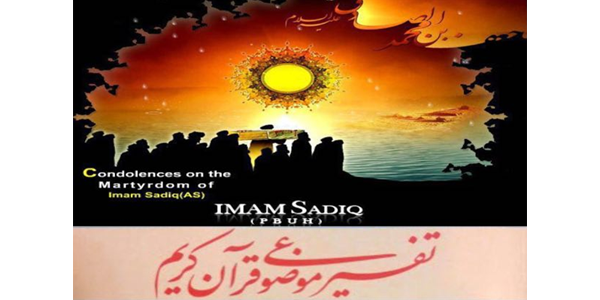 Saturday Program Dedicated to the

Martyrdom Anniversary of Imam Sadiq(AS)
Saturday, June 13, 2020 at 7:00 PM (EDT)
Zoom Link to the programs:
https://zoom.us/j/316797733?pwd=by9Mejh1NDJxU3ErU1hiaHNmZFlrZz09
Meeting ID: 316 797 733
One tap mobile +19294362866
Password: 351023
---
Program:
7:00-7:05 Quran Recitation
7:05-7:10 Poem/Marsieh
7:10-7:55 Lecture by Hojjat Al-Islam Doagoo (in Farsi)
برنامه (یک هفته در میان) تفسیر موضوعی قرآن کریم
عنوان این هفته: "شهادت"

7:55-8:05 Question and Answer
8:05-8:10 Poem/Marsieh
8:10-8:20 Ziarat AminAllah and Dua
چکیده:«شهادت»، کشته شدن در راه خدا، یکی از مهم ترین مفاهیم ارزشی مطرح شده در فرهنگ دینی اسلام است. قرآن کریم با ارائه نگرشی متفاوت به شهادت، آن را از مفهوم مرگ که به معنای پایان یافتن فرصت بشر برای فراهم کردن توشه و بستر لازم برای زندگی پس از مرگ است، جدا می نماید. آیات وحی الهی، حاکی از استمرار حیات و رشد معنوی کسانی است که جانشان را در راه خدا در طبق اخلاص نهاده و فدا نموده اند. در دومین جلسه از مباحث تفسیر موضوعی قرآن کریم، با تمرکز بر آیات 169 سوره مبارکه آل عمران، 154 سوره مبارکه بقره و 4 تا 6 سوره مبارکه محمد به بررسی دیدگاه قرآن کریم در موضوع شهادت خواهیم پرداخت.
Speaker's educational background:
McMaster University, Ph.D. in Religious Studies (Western field), 2018-
Queen's University, M.A. in Religious Studies, 2017-2018
Hartford Seminary, Graduate Certificate in Islamic Studies and Muslim-Christian relation, 2014-2015.
International Institute for Islamic Studies, M.A. in Islamic Studies, 2011-2016.
Imam Khomeini Research and Educational Institute, B.A. in Islamic Philosophy, 2006-2009.
Islamic Seminary of Qom, Levels 1-4 in Islamic Jurisprudence and its principles, 1998-2016

To access the announcement file please click file bellow