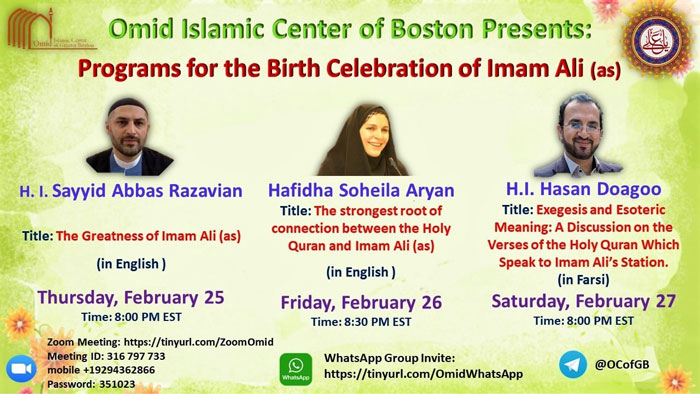 Upcoming Programs for Birth Celebration of Imam Ali (PBUH)
🌿💐🌿💐🌿💐🌿💐🌿💐🌿💐🌿
February 25-27, 2021
برنامه هاي مركز اسلامي اميد بوستن در ايام تولد امام علي(ع): فوريه ٢٧-٢٥
همه زمانها به وقت شرق آمريكا
🌿💐🌿💐🌿💐🌿💐🌿💐🌿💐🌿
1️⃣🌷دعای هفتگی کمیل
پنجشنبه ٢٥ فوريه ساعت ۸ بعد ازظهر
سخنرانی به انگلیسی
سخنران: حجت الاسلام سید عباس رضویان
https://tinyurl.com/Razavian
عنوان: امام علی (ع) مظهر بزرگی (ع)
2️⃣🌷برنامه مطالعات قرآني(Quran Circle) به زبان انگليسي در دانشگاه ام آي تي (فعلا آنلاین)
يك هفته در ميان روز هاي جمعه
جمعه ۲۶ فوريه ساعت ۸:۳۰ بعد ازظهر
سخنران : خانم سهیلا آرین
https://tinyurl.com/SoheilaAryan
موضوع: عمق ريشه اي ارتباط امام علي (ع) و قرآن
3️⃣🌷تفسير موضوعي قرآن:
يك هفته در ميان روزهاي شنبه
شنبه ٢٧ فوريه ساعت ٨ بعد ازظهر
سخنران: حجت الاسلام حسن دعاگو
https://tinyurl.com/Doagoo
موضوع این هفته: «تفسیر و تأویل: بحثی پیرامون آیاتی از قزآن کریم که در شأن امیرمؤمنان (ع) دانسته شده اند»،
Upcoming Programs:
February 25-27, 2021
1️⃣🌷Weekly Dua Komail Program on the 13th of Rajab
Thursday, February 25 at 8 PM EST
Dedicated to the Birth Anniversary of Imam Ali(PBUH)
(in English)
Speaker: Hojjat Al-Islam Sayyid Abbas Razavian (from Qum)
https://tinyurl.com/Razavian
Topic: The Greatness of Imam Ali (PBUH)
2️⃣🌷Biweekly Quran Circle at MIT (virtual) (in English)
Friday, February 26 at 8:30 PM EST
Speaker: Hafidha Soheila Aryan
About Speaker:
https://tinyurl.com/SoheilaAryan
Topic: The strongest root of connection between the Holy Quran and Imam Ali (as).
3️⃣🌷Biweekly Topical Tafsir of Quran
(in Farsi)
Saturday, February 27 at 8 PM EST
Speaker: H.I. Hasan Doagoo
https://tinyurl.com/Doagoo
Title: Exegesis and Esoteric Meaning: A Discussion on the Verses of the Holy Quran Which Speak to Imam Ali's Station.
Zoom link to programs:
Meeting ID: 316 797 733
One tap mobile +19294362866
Password: 351023